Victoria: Sunraysia
"A Life in Sunshine at the Waters Edge"
Everything here is Centered on the River: Nature, Work and Play
Mildura is an oasis in the desert with fruit orchards stretching for kilometres both north and south of the river. Along the river bank is history waiting to be studied and modern produce waiting to be enjoyed. The original pump and irrigation system designed by the Chifley brothers used to water the early orchards is on display as are many age-old buildings and museums.
The twin towns of Robinvale and Euston are just two of the many communities that were created as the centre for a large post-war soldier settlement scheme. Visit the district's vineyards and wineries, with such well known names as McWilliam's Wines and Robinvale Wines. Robinvale also boasts the largest windmill in the Southern Hemisphere, right alongside the new bridge and picturesque Riverside Caravan Park which is very popular in the summer.
The Calder Highway leaves Mildura heading south through the orchards and vineyards of Irymple and Red Cliffs where in Barclay Square, right alongside the highway, stands the towering profile of Big Lizzie, a forty-five tonne steam tractor used in the clearing of the land in the mid 1920's. At thirty-five feet high it is believed to have once held the 'title' of being the world's largest tractor. Nearby the towering seventy metre red sandstone cliffs of the Murray River Valley provide spectacular views of the river and are a reminder of the source of the towns name. The river plains are the site of the two thousand hectare Kings Billabong Wildlife Reserve popular for cycling, bushwalking and birdwatching.
Further down the highway the Hattah Lakes National Park are a collection of seventeen semi-permanent lakes that are home to many native waterbirds, fish, flora and animals. Fed by the Murray River in flood seasons the lakes overfill and are a source of much food for the local wildlife. As the drive wanders through the extensive wheat belt of the Victorian Mallee the arid plains of the Sunset Country to the west border on South Australia and the bushlands are the habitat of the difficult to find Mallee Fowl, a unique bird in that it builds a large mound for a nest and uses it to incubate their eggs instead of hatching them.
Mildura Highlights Links
www.murrayriver.com.au/mildura/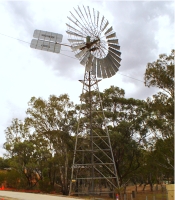 Robinvale Highlights Links
www.travelvictoria.com.au/robinvale/
www.murrayriver.com.au/robinvale/
RETURN TO VICTORIAN LOCALITY GUIDE
RETURN TO AUSTRALIAN LOCALITY PAGE
More Services on Australia Invited!
Do you have, or know of, a business or association you would like to promote?