Railway Tours and Holidays
"Train Journeys to Rival Those Anywhere In the World"
The romance of train travel conjuring up visions of old time great train journeys
Right Across the Country
You can travel from the coast city to CITY at the top of Australia starting in DARWIN , to the coast at bottom of the country ending in ADELIADE on the great Australian north-south outback train THE GHAN.
Australia also has a train that travels from the Pacific Coast in SYDNEY in the east to the Indian Ocean and PERTH on the West Coast called THE INDIAN PACIFIC. You will watch and see fantastic Aussie WILDLIFE and beautiful landscapes and WILDFLOWERS, all from the comfort of the lounge or your cabin.
What a great way to see Australia
Trains are certainly back. Many travellers are discovering how relaxing and wonderful trains are to travel on. Should you be looking for very different kind of HOLIDAY experience and you believe getting there is most of the fun, then on an Aussie train your holiday begins the moment you step aboard.
What better place to enjoy a trip. The thrill of a train click-clacking along passing through some of the most beautiful country in the world. Just imagine travelling over places like the Sydney Harbour water-ways, with the yachts and power boats churning and creating wakes behind them, the water shining like diamonds, the Opera House sails glimmering with Sydney's skyline and the Harbour Bridge in the back ground. Absolutely spectacular!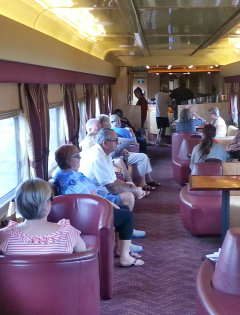 The Ghan and the Indian Pacific
Both the Ghan and Indian Pacific are two of the longest train journeys in the world and both carry you in a style that can be very easy to get used to. Australia is a vast land and you will chuff along travelling to places like no where else on earth.
You will experience the OUTBACK of Australia and beyond, all from the train as it meanders along the winding tracks. You will feel the closeness to the land that you will want to experience again and again. The sheer beauty of the outback will astound you. When you slide into the outback towns you can hope off, stretch your legs and see the sights first hand or take optional off-train SIGHTEEING tours.
Train Travel in Australia Can Be an Amazing Experience
More Services on Australia Invited!
Do you have, or know of, a business or association you would like to promote?